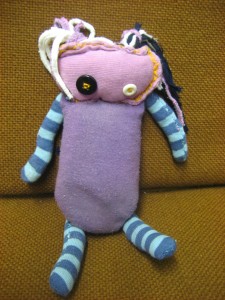 If you read "Maybe I am…" then you will be familiar with Vanessa's second book, "Quizás yo soy…". The same wonderful tale of self discovery is now available in Spanish! It is a story about unintentionally learning life lessons within the classroom. "Quizás yo soy…" embraces various cultures. Kids and parents alike will hopefully examine various cultures and learn to compare and contrast them to their own.
Ideal for 1st graders and up.
About the author:
Vanessa Campos is the creator of the Scrappy Dude dolls and books. The idea for this series originated after a trip to Paris and London. A store bought teddy bear became the central character of the trip. He was photographed at all the major tourist sights and then a book was created about his travels. This led to the idea of creating hand-made dolls that would serve as "companions" for any future travels.
Ms. Campos is not only a toy designer/author/illustrator, she is an art teacher. She has begun to incorporate the creation of these dolls into the classroom. She has created lessons based on product design and the history of both plush and vinyl toys. She has combined both areas of study: art and education into this project. It also reflects her love of traveling, literature, and a sense of play.
Whether you prefer to read in Spanish or want to pick this copy up as well you can find it here.