Dear Ellen,
I don't have cable in my apartment, but I DVR your show at my parent's house and watch it nearly every day.  My mom bought me a TV recently and I got an antenna box. I only get a handful of channels in English. (Most people are shocked that I have no cable, no internet, and no internet on my phone.) I was so excited that my antenna picks up NBC because I am obsessed with your show and The Steve Harvey Morning Show. Recently, I saw an episode of your show were Steve Harvey was the guest and I actually shrieked like someone just gave me Disney World tickets. My best friend was there and was shocked and completely amused at my reaction. After your show, I watched Family Feud with Steve Harvey and then I discovered that I had a new channel. It was like a perfect day. Sometimes it's just the little things in life.
I am 26 years old. I am an art teacher at an all-girl school. One of the projects I have the kids do is a vision board on Adobe Photoshop. I read "The Secret" and totally loved it and love creating vision boards. On my vision board I have a picture of you because my dream is to be on your show to talk about a company that I started, Scrappy Dudes LLC. I create children's books and toys. I started the framework for my website (www.scrappy-dudes.com) where people can purchase my books, read my blogs, and all that groovy stuff.
In 2010 I graduated from college with a Bachelor of Fine Arts. For my thesis, I wrote and illustrated a book. This book is a children's book about a little girl who goes to her first day of school and encounters another little girl who asks her where she is from. The main character says, "What do you mean I am from my house?" The other little girl asks her about her background and the story goes on into the main character exploring different cultures. She eats sushi and thinks "I like this, maybe I am Japanese." She keeps trying different things and wonders where she is from. She finally asks her mother where they are from and her mother says that they are Dominican-American (I am Dominican American.) It was important to me that the character was not just American because although America is a big melting pot Dominican Republic might not be in some areas.  Although Dominican Republic is largely a country that has a lot of tourists, the people in the countryside and that are not close to the major resort sites really do not encounter different groups of people. I wanted people to understand that even though you might live on an island or in a small city you do not have to limit your experience. You enrich yourself by encountering different people because they have a different perspective, beliefs, traditions, and customs that we can learn from.
I am Dominican-American and I too love exploring different cultures. When I was little, I would say things like "today I am Irish." I would then proceed to research about Ireland and read some Celtic myths, eat some corned beef hash, and get my parents to buy me some kiss me I'm Irish socks.) Growing up, first generation American it was hard being Latina. Most of my cousins my age do not even know how to speak Spanish because it just was not cool and their parents did not enforce it because now they were "American." To me being an American is so much more. We as Americans have the ability to eat at many different restaurants and sample many different cuisines (Chinese food, Japanese food, Cuban food, Italian food, etc. ) You can learn about all different types of religions and philosophies. You can encounter all different types of people of different colors, faiths, and backgrounds. I love that about where I live and I embrace that.
The characters in the book are all dolls that I have sewn by hand. I have created well over 500 dolls. For my thesis, I created over 300 dolls and sold them for $5 each and then donated the money to Haiti. Now I am in the process of creating another book. I hope that I really succeed with this business. I tend to dream big. I hope to someday be on your show to showcase my business and show kids and parents the importance of a multi-cultural education.
P.S. Attached is my vision board : )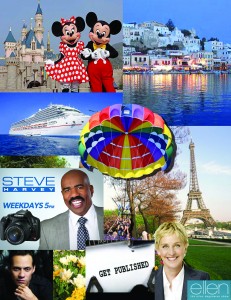 Click on image to enlarge.